How to Wash and Care for Your Handloom Sarees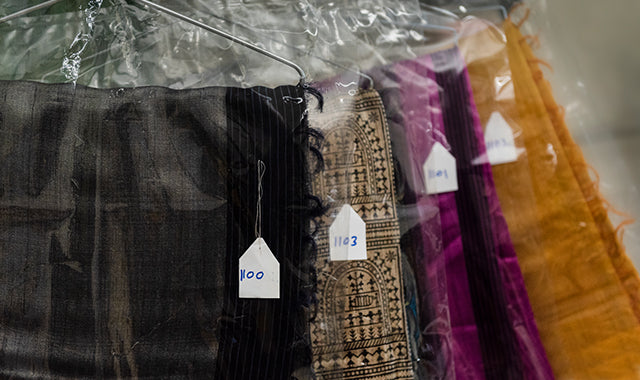 We all love sarees, don't we? No matter how often we wear saree, we all love to take them out of our closets, spread them for some fresh air and reverse their folds once in a while. And why not? After all sarees are tradition that gets passed on from one generation to another. Just the way sarees are passed on, tips to maintain them also get passed on by mothers to their daughters. However, in today's busy life we always look for the easiest way to do a task and the task of maintaining our sarees is no less different. That's why we thought we share some easy tips with you to maintain your sarees.
 Tips to Maintain Cotton Sarees
Before washing your cotton saree for the first time, make sure to soak the saree in normal water mixed with table salt for 30 minutes to an hour. This will ensure that any extra colour that could not be absorbed by the fabric bleeds out while locking the actual colour of the fabric. If you notice the water is changing colour, don't panic. It is just the additional colour that in any case cannot be absorbed by the fabric. This will prevent the saree from bleeding colour during subsequent wash.
Always ensure that you wash dark coloured sarees separately to avoid any remote chance of staining other garments.
Use a mild detergent to wash your cotton sarees and always avoid using hot water to wash your cotton sarees.
Do not wring it hard. Allow the excess water to drain off by hanging the saree lightly.
Always dry your cotton saree in a shaded area and avoid direct sunlight.
Certain cotton sarees are better worn when they are lightly starched. As per your liking you can starch those sarees. Just ensure that after starching, they are put to dry immediately.
Cotton sarees need to be always steam ironed as per the correct temperature setting meant for cotton.
Store your cotton sarees in a dark and dry cupboard which is devoid of any moisture.
Tips to Maintain Linen Sarees
Just like cotton sarees, linen sarees also need pre-wash treatment before the first wash to lock the colours. Soak your linen saree in normal water for 10-15 minutes in normal water mixed with table salt.
Use mild liquid detergent to wash your linen saree in normal water. Wash the dark coloured sarees separately.
Do not squeeze or twist saree as linen has no stretch and squeezing it hard can torn the fibers.
Never starch your linen saree. It will lose its natural softness on starching.
Avoid hanging linen sarees for drying. Instead you can spread the saree on a plain surface. Linen dries out quite quickly in air.
Always dry your linen saree under shade away from direct sunlight.
Linen sarees can be best ironed when they are slightly wet. Use the right temperature setting meant for Linen as per instruction on your iron. Usually linen needs high temperature for ironing.
As linen has no stretch, folding the sarees from the same crease repeatedly could lead to tearing of the fabric over time. Keep the saree lightly folded or better put them in a hanger.
Always store your linen sarees away from sunlight, but in a damp-free space.
Tips to Maintain Silk Sarees
Never hand wash or machine wash your silk sarees. Always go for dry cleaning silk sarees.
In case of stain, wash the stain with cold water immediately and then get the saree dry cleaned.
Avoid hanging silk sarees in direct sunlight.
Always iron silk sarees in low or medium heat. The best is to follow temperature setting meant for silk as per instruction on your iron.
Silk sarees are best maintained when kept in hanging position. In either case try to keep the saree lightly wrapped in muslin cloth so that air passed through tem easily.
Never keep your silk sarees in plastic cover as it may cause the zari to turn black.
Store the saree in dark, cool and dry place away from any humidity or moisture.
Tips to Remove Stains
For mild stains, wash the area immediately with cold water.
For tougher stains, it is always advisable to get the saree dry cleaned. In this case it's better to try any pre-wash treatment.
For oil stains, you can use sprinkle some talcum powder and leave it on for some time till the powder soaks all the oil. Then rub it gently and wash it off.
For stains (like curry drop, ketchup, turmeric etc.) on white sarees, simply wet the stained area and then dab some thick coat of white toothpaste on both the side of the fabric. After it dries off completely, wash off the toothpaste. If a lighter stain still remains, you can repeat the same process.
For lipstick stains, place the stained area on a white tissue paper with the stain side down. Use a plain white cotton cloth to dab some mild soap and leave it for 10-15 minutes. Press a wet clean white cloth on the area so that the lipstick stain and soap gets easily transferred to the tissue paper. Be careful to remove the tissue paper as soon as you are done, so that the stain from tissue paper doesn't get transferred to the other side of the saree.