Saree Saga of Eastern India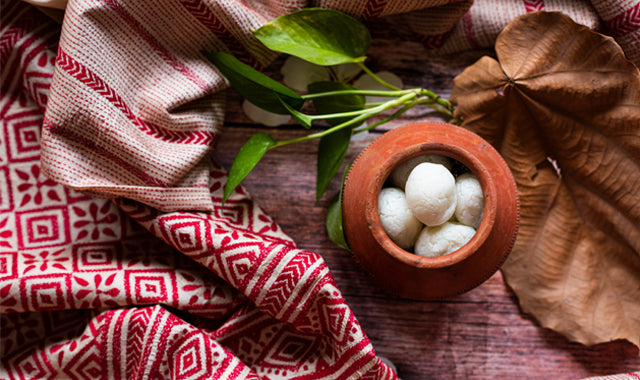 Saree is one of the most popular women's garment in the Indian sub-continent. The word 'sati' or 'Sattika', meaning 'strip of cloth' has been used to describe women's attire in ancient India in Sanskrit and Buddhist literature respectively. There has been evidence of existence of saree-like drapery from the Indus Valley Civilization, which flourished during 2800 – 1800 BC around the northwestern part of Indian subcontinent. Various paintings and sculptures available from various eras, suggest the existence and importance of a saree like garment in ancient India.
With change in time and fashion, saree has undergone lot of changes in the way it is worn and styled. Not just changing fashion, different culture, social structure and climatic factors has also contributed to the way how saree is worn and styled. Let's take a look at how the eastern part of India has contributed towards this eternal favourite garment of Indian women. The eastern states of modern India comprises of Bihar, Jharkhand, Odisha and West Bengal. Sarees from eastern India are quite well known for their distinguished weaving, style and pattern.  The rich traditional and cultural history of these states have influenced their weaving culture.
Bihar
The state of Bihar is known for Tussar silk and the sarees woven from the silk. Tussar silk is a non-mulberry silk that is also known as 'Wild Silk' as it is produced from a wide winged moth that is yellowish brown in colour and feeds on wild forest. It is a coarser variety of silk and is lot cooler, porous and breathable than other silk varieties. Another form of Tussar silk saree comes from Bhagalpur in Bihar. These sarees are known as Bhagalpuri silk sarees. The most notable feature of this silk is in its dyeing technique that give them a mesmerizing look. The state is also known for Madhubani or Mithila painting. It is a folk painting done by hands using natural colours and dyes. Though conventionally this art form was done to decorate and add colours to home, but with changing times, it has now been done on other products including sarees. Madhubani painting is generally done on Tussar silk sarees weaved in Bihar. The painting narrates different aspects of nature, scenes and deity from ancient epics on the sarees. These sarees are considered extremely rich and ethnic.
The women in Bihar has a unique style of wearing sarees which is called 'seedha aanchal' style. In northeast Bihar, women prefer to drape their saree in 'purnia' style too. The women from this state are traditionally known to wear saree. In modern times as well, no occasion and festivity is complete without the women getting decked up in sarees.
Jharkhand
Jharkhand is an eastern state of India, which is originally curved out from the state of Bihar. Like Bihar, Jharkhand also produces Tussar silk but a different variant, called Kuchai silk. Kuchai silk is produced mainly in Kharsawan and Seraikela in Jharkand. The cocoon for Kuchai silk is grown on Sal and Arjun trees. The state also produces another variety, Ghicha silk which is a by-product of Tussar silk. The sarees made of Ghicha silk gets a raw texture as the silk is manually reeled from cocoons making it uneven.
Jharkhand's tribe-centric culture has major influence in the saree patterns, often with traditional paintings or prints demonstrating tribal dances and festivals on them. Women generally prefer to wear sarees here. Women belonging to well off families prefer to wear sarees made of variants of Tussar silk. However, tribal women of the state go for the traditional attire of Panchi (lower garment) and Parhan (upper covering).
Odisha
Odisha is another eastern state of India which is immensely rich in its heritage and culture. The state is known for its architectural marvel as depicted on some of its renowned temples. The reflection of this intricate architecture can also be found in its textiles and weaves. The handcrafted sarees of the state are greatly influenced by temple culture in the form of temple borders, mythological design and traditional colours of Lord Jagannath. There are quite a few varieties of sarees weaved in this state. Depending on the region where it is weaved, the fabric used, the weave, design of the fabric and the pallu varies. The handloom sarees here are among the finest in the country.
Odisha ikat, also known as Sambalpuri Ikat is handwoven ikat wherein the warp and weft are tie-dyed before it is woven into a saree. These sarees are known for their heavily woven pallus and borders in contrasting colours and meaningful designs inspired from the temples of Odisha. These sarees are available in both silk and cotton. It is produced in Bargarh, Sonepur, Sambalpur, Balangir and Boudh district of Odisha.
Bomkai saree is a handloom saree known for its intricate weaves and patterns. This variety first originated in Ganjam district and was later introduced in Sonepur as well. Bomkai saree has an extraordinary fabric that is an outcome of ikat and embroidery interwoven into each other. The borders and pallus of this saree is marked by intricate thread work. The motifs of Bomkai are inspired by nature and tribal art. Bomkai sarees are available both in silk and cotton.
Another saree type from Odisha is Baandha. Baandha sarees are dyed using tie and dye method unique to Odisha. They have a subtle shimmer as they are interwoven with gold or silver threads. They have a unique three dimensional beauty and come with many symbolic and mythological motifs on the pallu.
Women of Odisha have been wearing sarees as their traditional costume. Interestingly, in Odisha, different regions have their distinct draping style. Some of the drapes from Odisha are Kuncha, Kotapad, Santhal, Ghorapindha, Kaccha and its variation.
West Bengal
When it comes to saree, Bengal handloom is the most ancient one in India and sarees from here narrates a rich weaving tradition which highlights the artistic culture of the state. The state has a wide range of sarees to offer from different regions and each of the variety has its own saga. Bengal is known for producing the best quality of cotton sarees. The state is also known for Tussar silk, Muslin and Linen sarees. Let's take a look at the range of sarees this state has to offer.
Cotton handloom sarees are weaved in Fulia-Shantipur cluster of West Bengal. These sarees are made of finest cotton and are not starched to give a classic flowy appearance.  These sarees are woven with contemporary motifs and texture and gives a chic urban look. Some experimentation is also been carried out on these sarees by blending cotton with wool, jute and linen.
Cotton silk sarees are made by blending cotton and silk. Cotton Silk sarees are known to provide the comfort of cotton along with the richness of silk. These sarees are weaved mainly in the Shantipur-Fulia cluster of Bengal.
Khesh cotton sarees are very unique due to its process of weaving. In this process, the warp is with yarn of a particular colour and the weft is with strips of thin cloth which is usually selected in terms of its colour and texture. The weaving process adds an element of surprise as the pattern for the weft is unpredictable and is not known till the weaving is complete. This unique art form comes from Birbhum district of West Bengal.
The handwoven Linen sarees from Fulia in Bengal exhibits simplicity, elegance and beauty. The material used in the weft defines the type of linen. Pure Linen sarees uses linen for both the warp and weft, whereas Silk Linen sarees use silk for the weft and similarly, Cotton Linen sarees use cotton for the weft.
Like most of the states in eastern India, West Bengal also produces Tussar silk sarees. However, the weaving technique here is little different. Weavers combine this silk with other yarns like cotton and wool to come up with a richer knitted fabric. Depending upon the region various motifs like fish, conch, rudraksha, flowers are weaved into the sarees.
Kantha is an embroidery style that originates from Bolpur in the Birbhum district of West Bengal. The word "Kantha" in Bengali means embroidered quilt. This stitch is characterized by the 'running stitch' that was used to adorn the quilts with artistic embroidery. Kantha stitch reinforces the fabric and creates lines, fields of colour and motifs. Sarees with kantha embroidery are typically made of pure silk, tussar silk and cotton. Depending upon the intricacy of embroidered patterns, a saree takes a few weeks to several months to prepare. This in turn determines the price of the saree.
Baluchari saree is the most exquisite saree from West Bengal. The history of Baluchari Sarees dates back to 18th century when under the patronage of Nawab Murshidkuli Khan, the craft flourished in the village of Baluchar on the banks of river Bhagirathi in Murshidabad in West Bengal. A flood in Bhagirathi River forced the trade to shift from Murshidabad to Bishnupur in Bankura district of West Bengal. Modern day Baluchari sarees are mostly weaved in Bishnupur where the weaving technique was revived in the mid-20th century. Baluchari sarees are known for its intricate design and depiction of mythological scenes on the pallu of the saree. The process of making Baluchari sarees includes cultivation of cocoons, processing the yarn and making motifs using the technique of Jacquard weaving where two weavers work for almost a week to produce one saree. The material used for the saree is silk and the saree is polished after weaving. The richness of this saree makes it apt for wearing during festivals and weddings.
Weaving of Jamdani sarees originated in Dhaka, Bangladesh and now it has been carried forward in parts of West Bengal as well, mainly in Habibpur and Ramchandarpur near Fulia. Jamdani is a woven fabric in cotton and is one of the finest varieties of muslin. It is one of the most laborious form of handloom weaves, which involves the supplementary weft technique along with the standard weft technique. The weavers use fine needle like spindles to create the weft motifs on the base sheer material.
Bishnupri silk sarees are woven in and around Bishnupur in Bankura district of West Bengal. These sarees are known for its finest silk that have a smooth and soft texture. These sarees come with variety of colours and traditional motifs inspired by traditional terracotta temples of the region, nature and rural lifestyle. Bishnupuri silk sarees are fusion of modern geometric motifs and traditional art.
Begumpuri sarees are not just about a beautiful work of art, it's an excellent example of how an old craft needs to be revived and transformed into a success story. These sarees are weaved in Begumpur of Hooghly district in West Bengal. Originally the weavers here used to weave the traditional plain Mathaparh and Nakshapar cotton sarees. Due to the lack of interest shown by the customers due to the repetitive designs, the tradition of handloom weaving was gradually disappearing. In 2010, it was revived by the Weavers' Service Centre, Kolkata. With the introduction of jacquard loom, extra weft in the weave, new dyeing and designing technique, the handloom clustered got a favourable response which in turn resulted in enhanced production.
Tangail sarees originated in Tangail district of Bangladesh. After partition, majority of these weavers immigrated to West Bengal and got settled in Fulia with government patronage. Tangail saree is weaved with a unique style by using extremely fine yarns that makes it soft and comfortable. Weaving style, color, design and length of this saree is very different from all other sarees. One of the exceptional features of these sarees is Par or the border. Jori or silk yarn is used for making the border. There are Tangail Jamadanis and then there are Fulia Tangail. Tangail Jamdanis are similar to Dhakai Jamdanis, but has a softer feel and sparser distribution of motifs. Fulia Tangails, incorporates vibrant colours and large intricate design woven in double jacquard. These sarees are also being woven in mulberry and tussar silk besides cotton.
Needless to say that the women from Bengal have not only been wearing sarees from ages but they have epitomized this costume to another level. They are known for their unparalleled way of draping sarees. Bengal women has a unique style of draping saree, known as 'Athpourey' drape. In this style, pallu comes from back to the front on both the sides. It has a box pleat at the front.  The state has also given us the style of combining the saree with a blouse and petticoat. It was first developed by Jnanadanandini Devi, wife of Rabindranath Tagore's brother, Satyendranath Tagore. She developed this style to defy the purdah system and to enable women to move out of their seclusion in the andarmahal and take part in outdoor activities. She fused the Parsi and Bengali style to come up with this new style.
Image courtesy: Wikipedia, Painting by Mr. Gautam Partho Roy and Collection by Mr. Pradip Burman